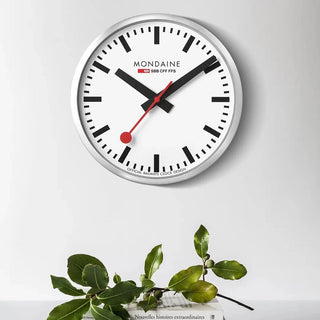 Introducing the new
stop2go Wifi Wall Clock
Get ready, get set, go! The NEW WiFi connected SBB Station clock featuring state-of-the-art stop2go technology is here. The distinctive red second hand stops for 2 seconds when it reaches 12 o'clock, allowing the minute hand to elegantly jump to the next minute. With the new Mondaine stop2go WiFi wall clock, you can hang a piece of iconic Swiss design above your office desk or on your living room wall.
Iconic industrial design with WiFi connectivity. The new stop2go wall clock provides an easier user experience thanks to its one-time setup through WiFi (while the old model used Bluetooth technology). Simply use your smartphone to synchronize your wall clock with your time zone.
Watch the video for step-by-step instructions or download the instruction manual here.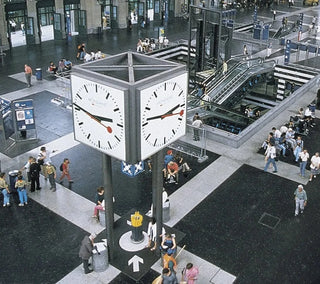 stop2go Innovation
In 1944, Hans Hilfiker, a Swiss engineer, created a clock which has become known as the "Official Swiss Railways Clock". To bring perfect accuracy to the timetables of the sprawling Swiss rail system, the station clocks realign every 60 seconds. To do this, the famous red second hand runs fast for 58 seconds, completing a graceful sweep without hesitation, pausing at 12 o'clock for an additional second to await the electrical pulse that signals the next minute. That two second pause at the top accounts for any time that may have been lost or gained among the different clocks, bringing them together at the start of the next minute.

The Mondaine stop2go WiFi Clock pays tribute to this eye-catching industrial design, continuing the innovation of the original with new WiFi intelligence technology.